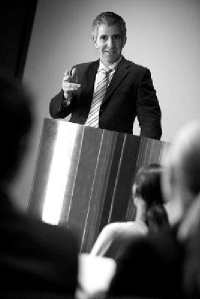 Daniel Robin brings more than two decades of consulting, individual coaching, speaking and teaching experience to clients worldwide. Presenting on-target messages as a speaker and seminar leader comes from this experience, built on special training in NeuroLinguistics (certified in 1991), putting him in touch with the most effective communication regardless of subject, sector, culture or circumstance.
As adjunct professor and workshop leader, Mr. Robin developed and delivered hundreds of successful business programs in the US and abroad.
Effective consulting and coaching services help leaders communicate, focus, and perform, or can support the diplomatic and legal pathways an HR director needs for a delicate resolve.
But arguably the most vital services are individual coaching, group facilitation, mediation & team alignment – sometimes subtle and barely visible, at other times strongly directive, depending on what the situation requires – instilling the ability to keep groups moving forward despite sticking points, obstacles or setbacks. Individuals and groups report breakthrough results and often don't know how they made it happen so easily.
Daniel Robin & Associates helps leaders of established companies make strategic investments in people and projects to powerfully align and focus workforces on the desired results. Investment, Alignment, Commitment.
In3 Group is an international impact capital management, advisory and business development consultancy based in California, with affiliates on four continents. In3 Group specializes in clean technology and renewable resources for energy, industry and health, serving as overseas project loan originators, accredited Moody's analysts for emerging markets, venture catalysts, risk management consultants and educators since 1996 (more).
---